The 10th of November is International Accounting Day, but did you know these facts about accountants and accountancy?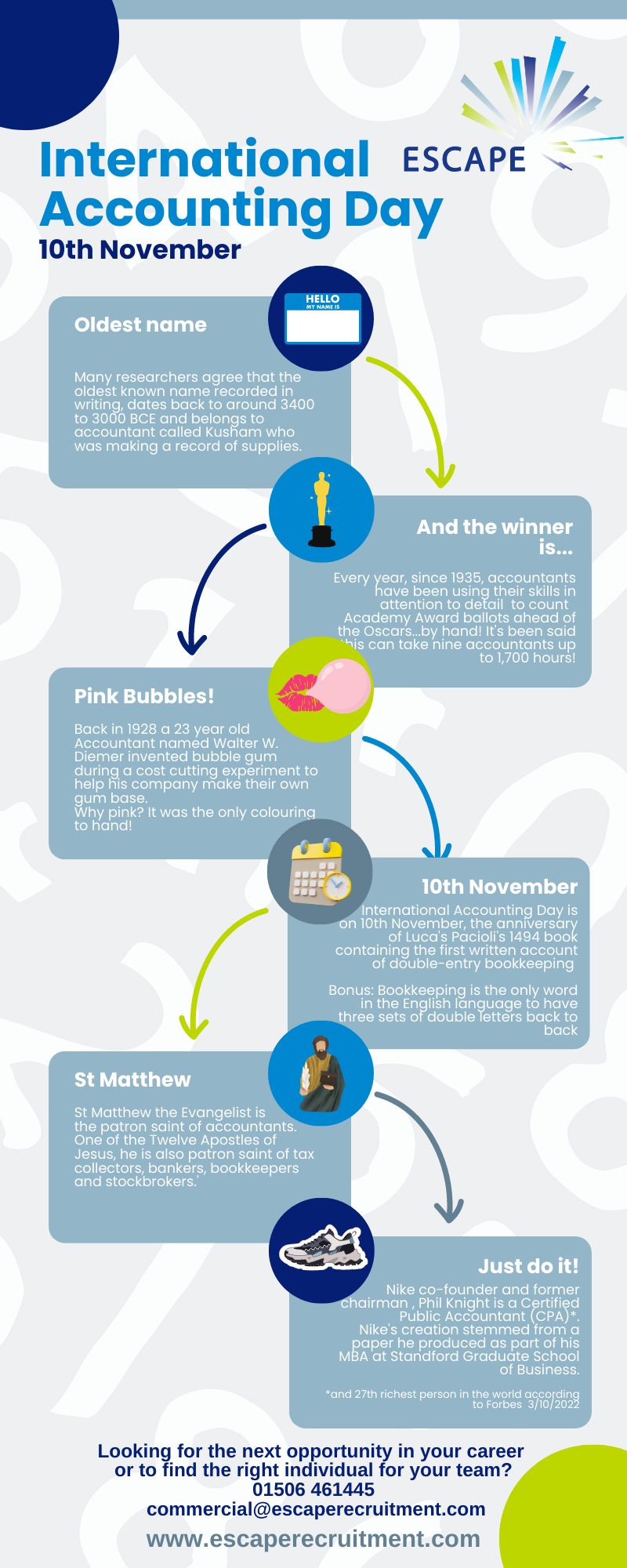 Oldest Name
Many researchers agree that the oldest known name recorded in writing, dates back to around 3400 to 3000 BCE and belongs to accountant called Kusham who was making a record of supplies.
And the winner is...
Every year, since 1935, accountants have been using their skills in attention to detail to count Academy Award ballots ahead of the Oscars...by hand! It's been said this can take nine accountants up to 1,700 hours!
Pink Bubbles
Back in 1928 a 23 year old Accountant named Walter W. Diemer invented bubble gum during a cost cutting experiment to help his company make their own gum base.
Why pink? It was the only colouring to hand!
10th November
International Accounting Day is on 10th November, the anniversary of Luca's Pacioli's 1494 book containing the first written account of double-entry bookkeeping
Bonus: Bookkeeping is the only word in the English language to have three sets of double letters back to back
St Matthew
St Matthew the Evangelist is the patron saint of accountants. One of the Twelve Apostles of Jesus, he is also patron saint of tax collectors, bankers, bookkeepers and stockbrokers.
Just do it!
Nike co-founder and former chairman , Phil Knight is a Certified Public Accountant (CPA)*. Nike's creation stemmed from a paper he produced as part of his MBA at Standford Graduate School of Business.
*and 27th richest person in the world according to Forbes 3/10/2022
---
Are you hiring for your Accountancy & Finance team?
Get in touch with Escape's specialist recruiters: commercial@escaperecruitment.com | 01506 461445
Or are ready to take the next step in your career?
View our latest Accountancy & Finance vacancies and register your CV with us for future opportunities.
---